British Law School
Last modified:
2019, December 23 - 6:05pm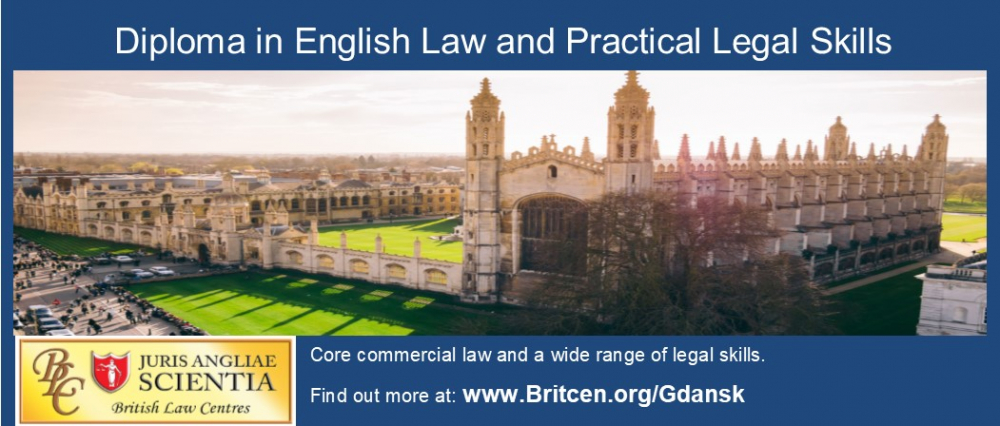 Diploma in English Law and Practical Legal Skills
The British Law Centre's Diploma in English Law and Practical Legal Skills is organised by a charity based at the University of Cambridge, Faculty of Law. It's members include Lord Carnwath of the UK's Supreme Court. Its Academic Committee is presided over by Professor Richard Fentiman, Dean of the Faculty of Law at Cambridge University.
Participants of the Diploma course study core issues of English law (including contract law, tort, trusts and others) and build a portfolio of practical legal skills (including case management, legal writing, contract drafting, oral advocacy, debating, mooting, interview skills and others).
The Diploma is taught at the University of Gdańsk by native-speaker lecturers who make 8 visits to Gdańsk, especially to each the Diploma. Each study visit lasts for approximately 4 hours (not including extra, voluntary events which participants can join if they wish). The course materials are prepared by experts in their respective fields, including academic staff from Cambridge University and other leading UK Universities. The materials and course teachers are also available at any time via a dedicated course website. All teaching is conducted in English in a practical and interactive manner.
The Diploma is aimed both at law students, practising lawyers and anyone who wishes to improve their English language and legal terminology. Whether you wish to practise as a lawyer or simply improve your written and spoken English whilst developing a range of other skills, the Diploma helps to make your career goals a reality.
The Diploma is well-recognised amongst legal employers and educational institutions, both in Poland and beyond. BLC graduates have already gone on to excel in a wide variety of professional ways, inter alia by working in most of the major international law firms and a variety of legal institutions – for example, Poland's current Advocate General at the ECJ (Maciej Szpurnar) and judge at the EU's General Court (Krystyna Kowalik-Bańczyk) are both BLC graduates.
The Diploma is a fee-paying course, but a reduced "earlybird" fee applies until 30th June. To find out more about the Diploma or to apply, please visit our website here. To contact us, please click here.
Fees:
The fee payable depends upon the participant's status (student/non-student) and the time of payment.
Fees payable to British Law Centre

Student/Non-student status

Early-Bird fee (applies before 30th June)

Standard fee (applies after 30th June)

Full-time student*

500€

550€

Non-student

600€

675€
*Anyone registered as a full-time student at any Higher Education institution within the EU (inc. Ph.D students or anyone officially registered on ORA/OIRP aplikacja courses)
Fee instalments:
It is possible to split fee payments into two equal instalments:
Instalment 1 – to be paid by course commencement date in October 2018)
Instalment 2 – to be paid by no later than 1st February 2019)
NB. Anyone wishing to benefit from the reduced "early-bird fee" must pay at least the first instalment by 30th June 2018.
Teaching Schedule
The draft teaching schedule for 2018-2019 is below. However, if (once recruitment has finished) it seems that the participants wish to organise the teaching schedule differently (i.e. different dates, different times), it may be possible to rearrange the draft schedule below accordingly.
Date

Substantive Law

Legal Skill

17th – 18th October 2018

English Legal System

Fact Management in Litigation

14th– 15th November 2018

English Legal System

Oral advocacy

12th – 14th December 2018

Contract Law

Oral advocacy

Client Interviewing

16th– 17th January 2019

Contract Law

Contract Negotiations

13th– 14th February 2019

Contract Law

Contract Drafting

13th– 14th March 2019

Trusts

Contract Drafting

10th– 11th April 2019

Tort Law

Written Advocacy

Legal Opinion Writing

16th– 16 May 2019

Tort Law

CV and Interview Skills

Contact details
UG Local Programme Director:
Dr Olga Śniadach
olga.sniadach@prawo.ug.edu.pl