Financial Law Review in ERIH+
The editors of the scientific journal Financial Law Review are pleased to announce that our journal has been included in the pan-European database of scientific journals ERIH ERIH + (European Reference Index for the Humanities Plus). This database is a prestigious index containing bibliographic information on academic journals in the scope of humanities and social sciences.
Entry to the ERIH + database is one of the criteria for placing academic periodicals in the list of scientific journals of the Ministry of Science and Higher Education. In the current list of Ministry of Science and Higher Education, FLR magazine was assigned a number of 20 points.
Financial Law Review is an international, electronic scientific journal devoted to issues of public finance and financial law. The mission of the journal is to create a forum for the exchange of knowledge and views within the scientific community and to popularize its achievements among financiers and representatives of business and politics. In its assumption, it is to be a bridge between science and practice enabling a two-way flow of inspiration and ideas as well as joint solving of complex problems of the modern financial world.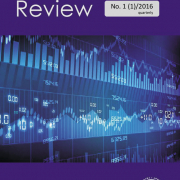 Last modified by: Dawid Michalski
Created by: Dawid Michalski
Last modified:
2019, November 21 - 1:14pm
Post date:
2019, November 21 - 1:12pm